Custom Designed Celebration Buttons
Concession Solutions has developed a selection of buttons that will allow your guests to announce what they are celebrating at your facility. Everything from Birthdays to Anniversaries to an all-encompassing "I'm Celebrating!" button.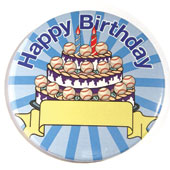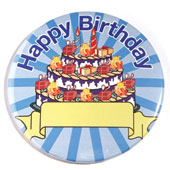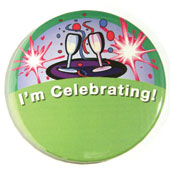 How great will your fans feel when they are being greeted and congratulated by name from your game-day staff? This is especially true of children. When our son was 5 years old we went to a popular amusement park and purchased engraved name badges for all of us. You should have seen his bewildered and excited look when the ride operator asked, "Are you having fun today Erik?" He thought it was so cool that this person seemed to know his name when talking to him.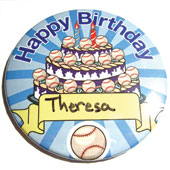 You can create this same personal connection at your facility just by being able to address celebrating guests by name. To personalize the Celebration Button, simply write the guests name on the mylar button using a standard permanent marker. Adding this little personal touch will greatly enhance the guest experience at your facility and almost guarantee that they will always have a very positive feeling whenever they look back on this day and your facility.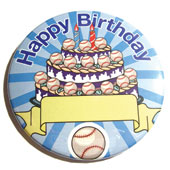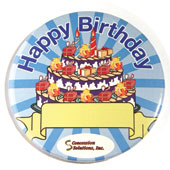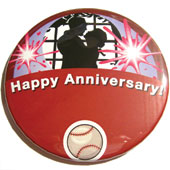 These Celebration buttons can also be personalized to your facility by adding your logo to the bottom. There is a $10.00 setup charge per design. For example, the Happy Anniversary button is one(1) design and the Celebrate with glasses button is one(1) design. If you want logos on both designs you will be charged a $20.00 setup charge for your order.
These buttons are sold in packages of 100. The buttons can be divided into groups of 25, so you could order 25 Anniversary with 25 "I'm Celebrating!" with 50 Birthday buttons for a total of 100. The 100 buttons cost $64.00 plus shipping and handling. All packages are shipped via USPS Priority Mail.
If you would like to give them a try, without purchasing a full 100, we have a 12 button sample pack available for $9.00 plus shipping and handling. Sample pack buttons cannot be personalized with your team or facility logo.